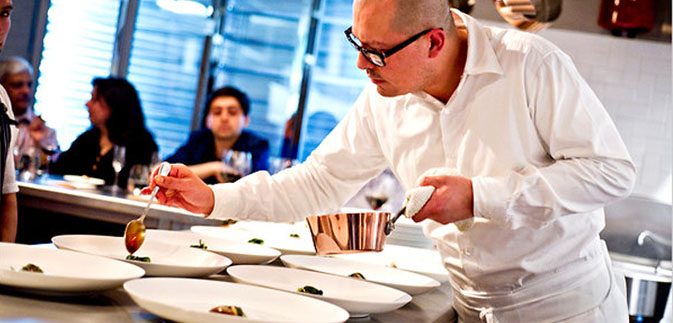 The Chef's Table at Brooklyn Fare: reservas imposibles

El sitio recomendado de hoy, se ha convertido en el restaurante más imposible de todo Nueva York para hacer una reserva, The Chef's Table at Brooklyn Fare.
Tan solo caben 18 personas posicionadas a lo largo de una barra que rodea la cocina. De ahí el nombre The Chef´s Table at Brooklyn Fare (la mesa del chef).
Cesar Ramirez es el Chef de este pequeño rincón Brooklyniano que cuenta ya con 3 estrellas Michelin. Se sirve un menú degustación de 20 mini platos. El 80% de estos platos estan hechos de marisco.
Se ha convertido tan popular en toda la ciudad que cada día sus dos turnos de martes a sábados para cenar, estan llenos. No abren al mediodía.
Si estás interesado en probar este delicioso restaurante, deberás saber lo siguiente. Solo hacen reservas con 6 semanas de antelación. Cada lunes a las 10:30 de la mañana hora neoyorkina es cuando abren reservas de una nueva semana (para 6 semanas después). A esa misma hora es cuando todo el mundo llama y se llenan todas las horas. Así que…paciencia. Estas son las siguientes fechas para hacer reservas:
Lunes octubre  8: semana de noviembre 13-17.
Lunes octubre 15: semana de noviembre 20-24
Lunes octubre 22 – semana de noviembre 27 – diciembre 1
Lunes octubre 29: semana de diciembre 4-8
Lunes noviembre 5- semana de diciembre 11-15
El precio del menú degustación es de $225+tax+propina. Cada día desarrollan un menú diferente.
The Chef's Table at Brooklyn Fare / 200 Schermerhorn St., nr. Hoyt St., Boerum Hill; Tel: 718-243-0050